6 Useful Tips You Should Know When Designing a Kitchen
How to design a kitchen? So many options, so little time. Designing a kitchen from scratch is a tough business, not for the faint of heart. It requires research, trial and error, and perseverance. If you're in Colorado and looking to make your kitchen charming and beautiful, you must know what's involved in the process, even if you're using a kitchen designer.
The following article discusses how to make the most out of your kitchen design. From creating a practical floor plan to planning for flooring and beyond, this article is the one-stop-shop for everything you need to know about how to design a kitchen. Whether you're planning on a traditional or contemporary kitchen, use it to create the luxurious kitchen of your dreams!
1.Create a List
The first step to designing your kitchen is making sure you know what you want and don't want. Planning in these beginning stages will make the end stages go faster. Jot down ideas before you go to your kitchen designer, so they have a solid idea of where your mind is. The more communicative you are with your designer, the smoother the planning and action phases go.
Creating a list and planning in this beginning stage is about choosing what you liked about the kitchens you've had and what you would like to see change in the future. Tackling questions such as whether you want an island or what color you want to paint your cabinets will go a long way when you decide to meet with your designer. Having this information readily available takes much of the stress out of your first meeting and allows the designer to guide your decisions better.
2. What's the Best Layout for My Kitchen?
Choosing the right layout for your kitchen comes down to asking yourself a few critical questions about your space.
Lifestyle- The first question you need to ask yourself is whether the kitchen design fits your lifestyle. How often will you be using the kitchen? Do you have guests often? Answering these questions about your kitchen's purpose will better equip you with answers to what sort of appliances and decor you need.
What Type of Space is the Kitchen?- Study the shape of your kitchen. Consider the working area of the kitchen first. Envision where you would do dishes, chop vegetables, and store cutlery. Does your kitchen have plenty of open space, or will it be challenging to fit everything? Also,  try to imagine how a dining room table fits into the equation.
Study the Shape of Your Kitchen- Think how the triangle fits in your kitchen. The triangle is a term used to describe the relationship between your sink, fridge, and hob. The hob is any holding area for food. Playing with your space by using the triangle method will give you the most use for your space. There are also different types of spaces for kitchens. The most notable are U-shaped, L-shaped, galley, and open plan kitchens. Determine which one you have and plan around that shape.
3. Make a Detailed FloorPlan
After completing your list and examining your space, you're ready to create a floorplan. The best way to begin your floor plan is by discussing your list with an architect or architectural technologist. If you're feeling especially self-sufficient, you can draft the floorplan yourself. But for best results, it's best to leave this job to professionals.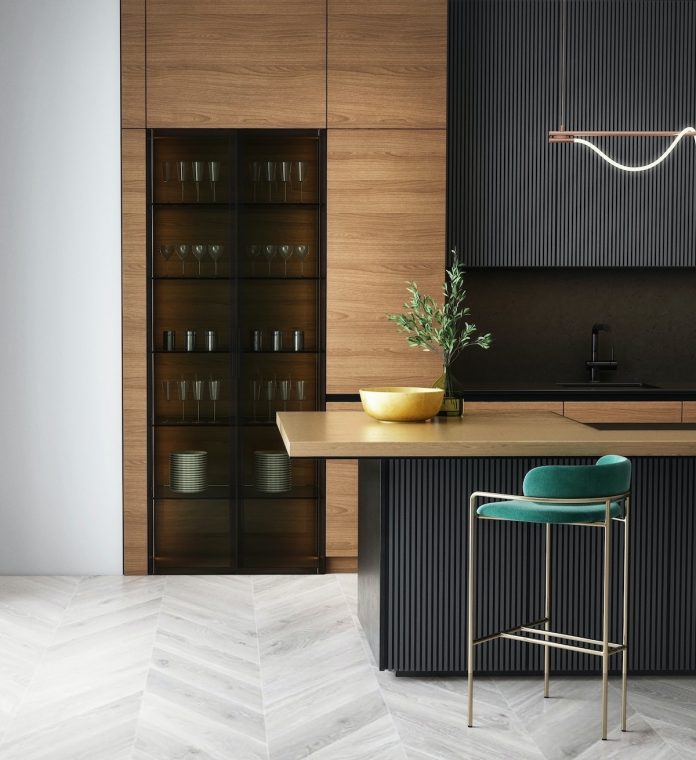 4. Compile Kitchen Design Ideas
After you've completed your kitchen floor plan, you have laid the groundwork to start getting into the details. At this point, you have a rough idea of what you want your cabinets and island to look like; now it's time to start planning on what materials you're going to use to bring that vision to life.
There are a few questions to ask yourself when considering your kitchen materials. First, do you want your kitchen to compliment your house's style, or do you want it to contrast with your homestyle? How do you want to budget for your kitchen appliances vs. decor? Do you want the decor to be your focal point or the appliances to give it a modern feel? How can you use color to make your kitchen stand out the way you want?
The most crucial takeaway from these first few steps is that you're not spending much time doing anything. You want to plan your kitchen as much as possible in the beginning stages. Trying to plan as you're working on your kitchen will lead you into nightmarish situations where you decide on something and then change your mind and start over.
5. Decide on Your Kitchen Materials
After you decide on the design elements- i.e., which appliances, decor, and coloring you want to use, it's time to budget and make sure you can afford the necessary materials. This stage is also about choosing the materials that last the longest and make the most sense for your particular kitchen design.
Regardless of your budget, investing in the best kitchen materials protects your investment long-term. Like planning your kitchen before starting the building process, you can avoid pitfalls down the road if you buy the right materials upfront.
An example of investing in high-quality materials that last the longest is choosing hardwood for your cabinets. Hardwood is the most durable cabinet material you can buy. If you're looking for a viable, more affordable option, plywood is a smart choice.
An example of a material to avoid for cabinets is wood veneer. Wood veneer can peel and chip and typically has a short lifespan. Particleboard is another example of a material that doesn't last very long. However, both of these materials are cost-friendly, so if you're on a limited budget, they might make the most sense for you.
Deciding on your materials also encompasses choosing materials for:
Appliances and fixtures
Countertop materials
Flooring
Window dressing
Electrical
Lighting
6. Consult With the Best Kitchen Company
Whether you've completed all of this planning on your own or consulted with a kitchen designer prior, the essential aspect of getting the design you want is communicating with your kitchen designer throughout the process. They will provide you with all the guidance you need to bring your kitchen to life.
After you've planned the kitchen of your dreams, sit back, relax, and watch your kitchen design come to life. At this stage, you'll realize; how to design a kitchen was never as daunting a process as you thought.