7 Tips to Make Your Home Theater More Cozy
Your home theater is a great place to watch movies and TV shows, but it can also be a cozy spot to gather with family and friends. However, it can easily get crowded and feel stuffy, especially if a lot of clutter needs to be dealt with. So whether you generally want to improve your home theater or prepare for an upcoming movie night in your home, we've got your back. Here are seven tips to make your home theater more cozy and inviting while you enjoy your favorite movies and shows:
1. Get rid of any clutter that's been accumulating in the space
Cleaning up is one of the best ways to enhance any space. But, unfortunately, we all know how many home theaters are prone to clutter, especially with all the wires, DVDs, and other things that are usually associated with them. 
So, take some time to remove anything you don't need and declutter the area. This includes DVDs that you no longer watch, cords that are no longer being used, and pieces of furniture that take up too much space. Always remember that having a minimalist home design can make your space much cozier.
2. Invest in a quality television or screen
One of the most important aspects of any home theater is the television. After all, you'll focus on this when you're relaxing in your space. So it's a good idea to get a television that's the right size for the space. 
You don't want a TV that's too small or too big. Can you imagine watching your favorite streaming service, Planet Dish or Netflix, in a cozy room with a tiny television? It just wouldn't be the same. That's why investing in a good-quality television that will give you the best viewing experience is important.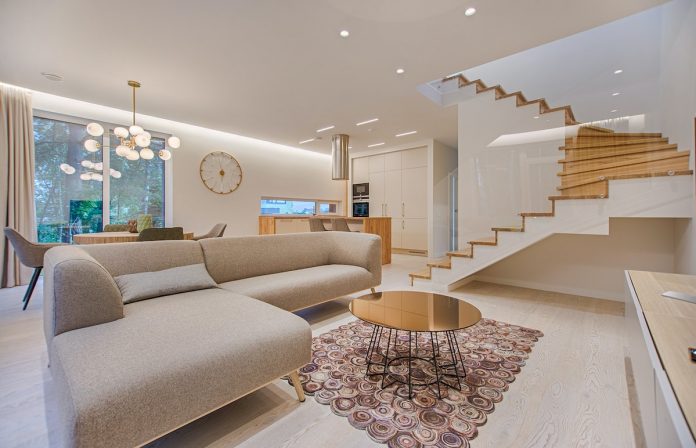 3. Get cozy, comfortable seating
One way to make your home theater more inviting is to get cozy seating. This means that you'll want to avoid any uncomfortable or stiff furniture. Instead, opt for comfortable couches or chairs that you can sink into. You may even consider bean bag chairs or floor pillows for a more relaxed experience. It's also a good idea to have enough seating for everyone who usually hangs out in your home theater. This way, no one will be left feeling cramped or uncomfortable.
4. Incorporate some blankets and pillows
Another way to make your home theater cozier is to incorporate blankets and pillows. It is one of the perfect ways to make your space more comfortable and inviting. After all, who doesn't love snuggling up with a blanket and a pillow when they're watching a movie? You can take this further by getting a cozy blanket draped over your furniture. This will add an extra layer of warmth and comfort to your home theater.
5. Add some lighting
Lighting is an important element in any room, including home theaters. The right lighting can help to set the mood and make the space more inviting. However, you don't want to go overboard with the lighting. On the other hand, you also don't want anything too bright or harsh. So, make sure to find a balance between the two. You may even consider adding dimmer switches to adjust the lighting to suit your needs.
Final Thoughts
Making your home theater more cozy doesn't have to be difficult. Following these simple tips can transform your space into the perfect place to relax and watch your favorite movies and TV shows. You may even find that you want to spend more time in your home theater once you've made it more comfortable.