How to Achieve a Modern Rustic Interior Look
Modern rustic is the latest hottest home décor trend. Unfortunately, modern and rustic have often been at odds, with most people believing you can have one or the other. But contemporary interior design shows this couldn't be further from the truth. As more Americans look to beautify their homes, here's what you need to do if you want to how to achieve a modern rustic interior look.
Today's interior design industry will be worth $23.8 billion in 2022, with increasing demand from interior designers in the aftermath of the COVID-19 pandemic. 
What is Modern Rustic?
Modern rustic isn't about moving out your modern appliances and returning to Pioneer Days. On the contrary, it's about making them both work in perfect harmony.
The best part is you don't need a large budget to make it happen. But, on the other hand, if you have a large budget, there's no reason you can't contract a hearth & fireplace installer to bring your rustic dreams to life.
But You can convert even an old-fashioned hearth and fireplace to create a modern yet rustic interior.
The definition of modern rustic changes all the time. There's no blueprint for modern rustic, only guidelines you can take onboard to what extent you like. Most experts will agree that modern rustic has several key elements, such as:
· Open floor plan
· Natural materials
· Modern furniture
· Exposed architectural elements
Beyond these basic elements, you're free to define modern rustic however you please. Start small and begin gradually making the transition within your home's interior.
Highlight Natural Materials
Some staples act as the hallmark of the rustic home. However, natural materials like stone or wooden floors, fireplaces, and exposed beams are the elements that need to be emphasized to bring the rustic theme into your home.
Understandably, elements like exposed beams might not be practical within your home, but there's no reason why you can't opt for more natural materials at home.
Custom furniture is another great option. For example, high-quality hardwood for your wardrobe or kitchen cabinets can capture the rustic feel and act as natural focal points for your room.
Bring Color Pops Into Your Interior
Did you know that 55% of Americans undertook home renovations in 2020? Yet, experts commonly find Americans are afraid to paint over existing material.
Wood, brick, and even stone walls are all ripe for painting. Part of modern design is fun color pops everywhere. So don't be afraid to paint over some natural materials with warm whites or greys.
The role of color is pivotal in creating a modern rustic interior. The paint acts modern and accentuates your abode's rustic features.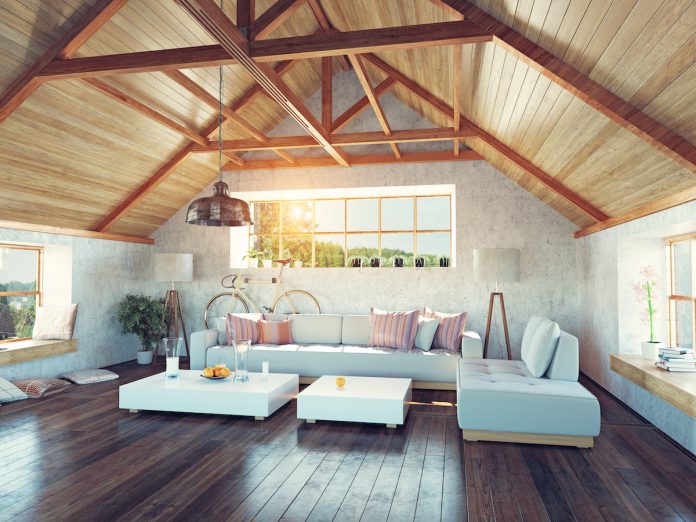 Simplify Your Interior
Rustic homes are often viewed as spaces without too much modernity and with plenty of clutter. The lived-in homely feel characterizes this home style. Instead of sticking perfectly to the script, consider creating wide open spaces with simplified interiors.
Lightweight furniture is especially popular for maintaining airflow throughout your abode. Try incorporating some smaller pieces of texture and a little color to spice things up.
Note that you don't have to become minimalist as part of your transition to modern rustic. It simply means removing anything superfluous and embracing the simplicity of a rustic lifestyle.
Naturally, you'll need to work with the space you have, which can present its challenges.
Find Furnishings that Model Modern Rustic
Tell the story through your design with little pieces throughout your home. One way to do this through your furnishings is to choose older furniture that has been refurbished.
Refurbished furniture embodies everything about this design dynamic because of the mixture between old and new.
You can also get creative by repurposing other items to create furniture. For example, mirrors framed by driftwood have become trendy in recent years, as have multi-material tables.
Plus, repurposing other materials to serve as your furnishings is a great way to demonstrate your commitment to sustainability.
Come to Love Hardwood Flooring
Carpets are the staple of the modern home. However, traditional rustic homes rarely contain anything but hardwood flooring.
Strengthen your connection to nature with hardwood flooring. If you live nearby, consider choosing the same wood you would find in a forest nearby. Oak and maple are especially popular within the North American market.
Are you worried about the cold?
Hardwood flooring can leave a chill later in the year. Depending on where you live, you should look into contingency plans. Try supplementing hardwood flooring with some well-placed rugs. Room-sized rugs are perfectly acceptable if you're expecting sub-zero temperatures this winter.
Add Texture to Your Home
Rustic focuses on natural materials, whereas modern concentrates on synthetics. It seems simple enough, but this comparison would be a misunderstanding of the two styles.
Making your home modern and rustic also means embracing the homely feel of walking into a rustic home. Hard materials must be balanced with smooth ones. There's no better way to do this than adding texture to your home.
Look for woven pillows, wool throws, and jute rugs to embellish a room. Choose your colors carefully, with bold, bright coloring working perfectly with the darker colors of a modern rustic interior.
Invest in Live-Edge Furniture
Live-edge feature has become a focal point of modern rustic interior design. In addition, live-edge wooden furniture is trendy because of its untreated nature. These pieces of wood are completely unfinished and contain their natural edges, meaning you could have cut the wood from the tree yesterday.
Look at a live-edge wood slab, and you'll see the raw characteristics of that wood. You'll often still see the grain, knots, and uneven edges.
Nothing is more modern rustic than live-edge furniture. However, try to do it sparingly. Live-edge furniture can be expensive, so consider opting for just one or two pieces for your home.
Conclusion
Modern rustic has grown to become one of the hottest interior design trends. However, don't sweat over sticking to the trends. Trends come and go, but what matters is that you have the type of space you're happy in.
Start in a small way and begin building up your modern rustic credentials before investing in high-end renovations.
What's your favorite aspect of modern rustic interior design?
Thank you for reading How to Achieve a Modern Rustic Interior Look