How to Complete a Renovation Project Successfully
A home renovation project involves a lot of planning, budgeting, and hard work. It can also take a lot of time. Considering how challenging it is to move from idea to execution, it's crucial to lay down all the details in advance. What's your budget? What do you want to achieve? How to combine aesthetics with functionality? What are the current problem areas? How do you find reliable contractors? Which parts of the work can you do yourself? Read on to discover how to complete a renovation project successfully. 
Identify Your Goals
To ensure you will complete your project successfully, start by identifying your goals. For example, how do you envision your dream home? Do you want to fix current problems and upgrade systems and appliances? Do you want to change or improve home style and aesthetics? 
In general, a renovation project is a perfect chance to check off your list of several goals. Thus, you can bring your home to high standards of comfort, convenience, and aesthetic appeal, without neglecting any of these three components. First, however, it's crucial to determine how far you want to go with the upgrades, considering the costs and the time commitment. 
Before moving on to the next step, decide which rooms or areas are your top priority and which changes could be postponed to a later date. 
Set Your Budget 
Home renovation projects often have many unpredictable costs. As you start ripping out parts and looking thoroughly at your systems, you may discover many hidden issues that need fixing. The total cost of the project will depend on your goals. Do you want to replace all your appliances or large pieces of furniture and upgrade your roofing? Do you want to remodel your kitchen or bathroom? Look at your list of goals and check prices for each particular job. 
Setting your budget can be a complex task:
You will have to look at the cost of materials, supplies, and tools.

You have to consider the costs of labor and expertise. If you hire a general contractor to take care of every aspect of your project, you may be able to negotiate a good deal. Alternatively, you can do parts of the work yourself and only hire contractors for specific jobs that require technical expertise, such as plumbing or electrical work.

You also have to consider the prices for home décor, furniture, and appliances. 
If your budget is limited, consider starting with a few priority areas to ensure you'll not find yourself without funds in the middle of the project. 
Give Extra Attention to the Plumbing and Electrical Systems  
The electrical and plumbing systems should get a lot of attention during renovation. These systems' installation, maintenance, and repair are pretty extensive processes, and any malfunction can have unfortunate consequences. Electrical malfunctions can cause house fires, for example. Issues in the plumbing system can also lead to home disasters. For example, having your kitchen or bathroom flooded about remodeling comes with unnecessary costs, loss of time, and stress. 
Since the electrical and plumbing systems are at the core of a functional, safe, and comfortable home, it's vital to give them extra attention during renovation. Hire professional plumbers to check for potential problem areas and work on essential upgrades. You don't want to risk facing a plumbing problem after renovation. After renovation, fixing an old system is messy and inconvenient, especially if you need to replace various significant components such as rusty and noisy pipes. 
When it comes to electrical work, you will also need to hire a professional. It is illegal for homeowners to do the electrical themselves work in some states due to safety risks.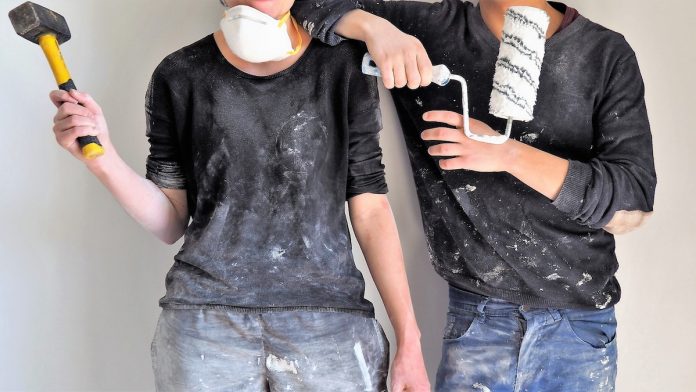 Find Reliable Contractors 
Your ability to find reliable contractors and negotiate good deals will play a massive role in completing your renovation project. You want to work with contractors who can respect their promises, work on a set schedule, pay careful attention to their work, and comply with your requests. 
How to find reliable contractors? Relying on word-of-mouth recommendations from friends and family is often a good idea. You can also research contractors in your area, check their websites and portfolios with past projects, and read online reviews and testimonials. Ideally, you should contact the contractors who've made it to the top of your list and discuss your project directly. Excellent customer service is a good indicator of professionalism. 
When looking for contractors, ask for estimates. For homeowners that are limited by a strict budget, prices can be a differentiating factor. It's important to remember that no one can give you an exact price. Contractors cannot provide a fixed quote because of the surprises that can appear along the way. A renovation project can bring to the surface many invisible home problems that need fixing. 
Take the time to compare offers. If you find a full renovation quote to be outside your budget, break the project into smaller jobs and only hire contractors for each particular job. This strategy can reduce your costs. 
Consider the DIY Approach 
Although it's essential to hire professionals for the most technical parts of the renovation project, you can also contribute directly to the project in the form of labor.
Analyze your goals and determine which activities you could carry successfully based on your skills, tools, and time availability. A DIY approach to home renovation can be rewarding and cut your overall costs considerably. You can find dozens of online resources with tips, advice, and tutorials. From minor demolitions to paint jobs, there are many things you can do successfully without needing advanced skills. 
Are you passionate about interior design and love browsing home décor magazines and blogs? Then, a home renovation project is a perfect opportunity to implement your design and décor ideas. If your budget doesn't include the costs of interior design services, use your inspiration to create the home of your dreams. 
Final Words 
To complete a home renovation project successfully, you will need to know what you want to achieve, in how much time, and for how much money. By having a set budget, a timeline, and a list of goals, you make quick and informed decisions along the way.