How to downsize to an apartment
When all of the chicks have flown the coop, maintaining a large home just doesn't make sense. Unless you have frequent family visits, the need for additional bedrooms and formal dining rooms no longer exists. Not only are these rooms sitting empty, they still have to be routinely cleaned, heated, and cooled. How to downsize to an apartment? how can all of your belongings to fit into a tiny one or two-bedroom apartment? Here are some of the best ideas to help you downsize.
For most people who find themselves alone around middle age up to retirees, downsizing to an apartment is very tempting. Although your rent won't work for you as your mortgage payment does, it is likely lower and more manageable on a fixed budget. Downsizing also gives you less clutter to keep up with and fewer rooms to clean.
1. You don't have to keep every item with emotional value
We all have joyful or memorable experiences in our lives, and we all want to keep mementos. But the sad truth is that no one can keep them all. So instead, you should choose the most precious items to take to your new apartment, then snap pictures of all the other items as digital memories that save physical space.
If you have quite a few smaller souvenirs that you want to keep and display, 1StopBedrooms furniture catalogs include shelving and display cabinets that can be attached to the wall, leaving open floor space while still displaying your most prized possessions.
2. Decide what can reasonably be placed in storage
You may not be willing to let go of some items, but you don't have room for them in your new smaller apartment. This could be anything from family heirlooms to valuable collections that you want to be passed down when the time comes but need to maintain for the time being. 
Climate-controlled storage units are not as expensive as you might think, and you can often store most of those types of belongings there. You can also use this as an opportunity to store seasonal furnishings and décor. The best apartment complexes will offer storage units on-site for such occasionally accessed items.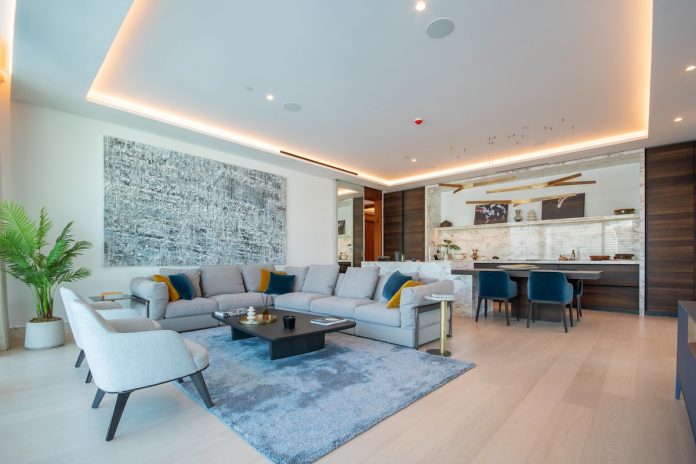 3. Decrease furniture instead of the things that matter
You don't have to get rid of most of your keepsakes and collectibles to save space in your new apartment. Instead of ditching the things you love, ditch the bulky furniture that houses them. Instead, put a tall and narrow bookcase in each room for a low-profile display of these items. Use decorative boxes to store smaller items you don't necessarily want out in the open. 
You can also make every piece of furniture multi-functional. For example, you can use the same console table for bar, beverage, and tea service that can also double as a desk or writing service by pulling in a chair from the dining room. Another fun option is to get ottomans that can be used as a footrest, seat, or even a table.
You can also store items out of sight with interior storage options. Living room options include storage benches, ottomans, and sectionals with hidden storage. You can also use these options in the bedroom, with platform beds with built-in drawer storage options. Bedroom furniture, in general, can also hide storage, such as floor mirrors that offer hidden jewelry armoires.

Thank you for reading how to downsize to an apartment