Top 10 Patio Trends to Watch Out for in 2023
A new year always brings fresh ideas and inspiration, and 2023 is no exception. As we spend more time at home, our outdoor spaces have become increasingly important for relaxation, entertainment, and even work. Whether you're planning a complete patio makeover or just looking to spruce up your current setup, these top 10 patio trends to watch out for in 2023 will help you create an inviting and stylish space that's perfect for all occasions.
1. Sustainable and Eco-Friendly Materials
As the world becomes more environmentally conscious, sustainable and eco-friendly materials are gaining popularity in patio design. Look for furniture made from recycled materials, such as reclaimed wood, recycled plastics, or even repurposed metal. Additionally, consider using permeable pavers, which allow water to seep through and prevent runoff, helping to reduce your environmental impact.
For instance, if you are considering flyover patio designs, you can opt for sustainable engineering solutions, like the use of naturally occurring materials such as stones and pebbles.
2. Multi-Functional Furniture
Gone are the days of static patio furniture. In 2023, expect to see more versatile options that serve multiple purposes. Think modular seating that can be rearranged to accommodate different group sizes or coffee tables that convert into dining tables.
This trend allows you to maximize your outdoor space and adapt to changing needs, whether you're hosting a large gathering or enjoying a quiet evening alone.
3. Natural Elements and Biophilic Design
Biophilic design, which incorporates natural elements into the built environment, is a growing trend in both interior and exterior design. In 2023, expect to see more patios featuring elements such as water features, living walls, and green roofs. These additions not only add visual interest but also help to improve air quality and promote a sense of well-being.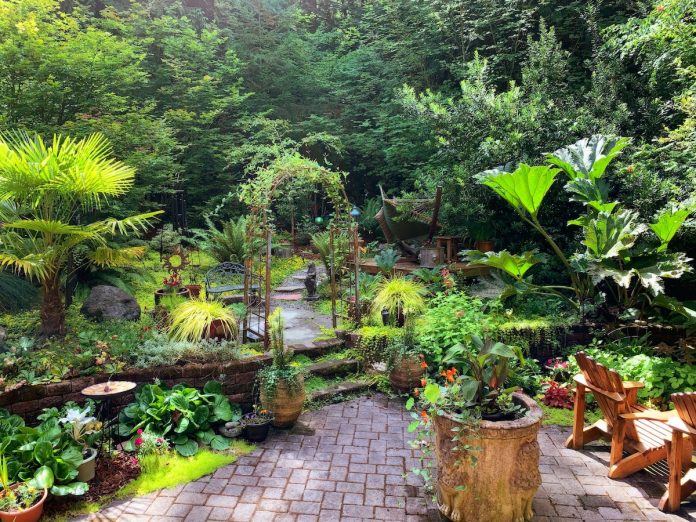 4. Pops of Color
While neutral hues will always have their place in patio design, 2023 is all about adding pops of colour to your outdoor space. Whether it's through vibrant furniture, bold outdoor rugs, or eye-catching accessories, incorporating colour is a great way to inject personality and make your patio feel more inviting. Don't be afraid to mix and match different hues – remember to tie everything together with a cohesive colour palette.
5. Outdoor Kitchens and Bars
As we continue to entertain at home, the demand for outdoor kitchens and bars is on the rise. In 2023, expect to see more patios featuring built-in grills, pizza ovens, and even fully stocked bars. These additions not only make entertaining a breeze but also help to blur the line between indoor and outdoor living, creating a seamless flow between the two spaces.
6. Cozy Fire Features
Whether it's a fire pit, fireplace, or even a tabletop fire bowl, adding a fire feature to your patio is a surefire way to create a warm and cozy atmosphere. In 2023, look for unique and modern fire features that act as statement pieces while providing a functional heat source. And as a bonus, a fire feature can also extend the use of your patio well into the cooler months.
7. Smart Technology Integration
Smart technology has made its way outdoors, and in 2023, it's set to become an even bigger part of patio design. From smart lighting and sound systems to automated irrigation and even voice-controlled outdoor appliances, integrating technology into your patio can make it more convenient, energy-efficient, and enjoyable.
8. Vertical Gardens
With the rise of urban living and smaller outdoor spaces, vertical gardens have become a popular solution for adding greenery without taking up precious square footage.
In 2023, expect to see more patios featuring creative vertical garden solutions, such as trellises, wall-mounted planters, and even freestanding vertical garden structures. This trend not only adds visual interest but also helps to improve air quality and create a more relaxing atmosphere.
9. Textured Surfaces
In 2023, textured surfaces will be all the rage in patio design. From stamped concrete to textured pavers, adding texture to your patio flooring is a great way to create visual interest and make your outdoor space feel more inviting. Plus, textured surfaces can also provide added traction, making them a safer choice for families with young children or elderly members.
10. Outdoor Lighting
Last but not least, outdoor lighting will continue to be a major trend in 2023. From string lights and lanterns to LED path lights and illuminated planters, the right lighting can transform your patio into a magical oasis once the sun goes down. In addition to adding ambience, outdoor lighting also increases safety and security by illuminating dark corners and walkways.
Conclusion: Patio Trends to Watch Out for in 2023
There you have it — the top 10 patio trends to watch out for in 2023. Whether you choose to incorporate just one or all of these trends, updating your patio with fresh ideas and inspiration will help you create an outdoor space that's perfect for relaxation, entertainment, and everything in between. So go ahead, get planning, and enjoy your stylish new patio all year round.