Toronto's Most Impressive Buildings
The Toronto Skyline, dominated by the CN tower, is among the most beautiful modern cityscapes the world has to offer, and Toronto's architecture features buildings that any city in the world would be proud to house. With more than its share of architectural ingenuity and inspiration at work, Toronto's most impressive buildings are worthy of attention and the many accolades they have received from around the world.  In this article, we take a closer look at some of the city's modern architectural marvels.
James Cooper Mansion
This 32-story high rise is a landmark in its own right featuring a uniquely-shaped structure with striking light and dark colour contrasts, but the achievement is almost overshadowed by its history. To make way for this gigantic structure, the historic James Cooper House was actually moved to a new location where it now houses some of the condominium's amenities. DelSuites, a company handling short-term rentals in this imposing building, says that its location has much to offer residents. Apart from its centrally situated convenience, it is also well-connected with urban green spaces.
The Royal Ontario Museum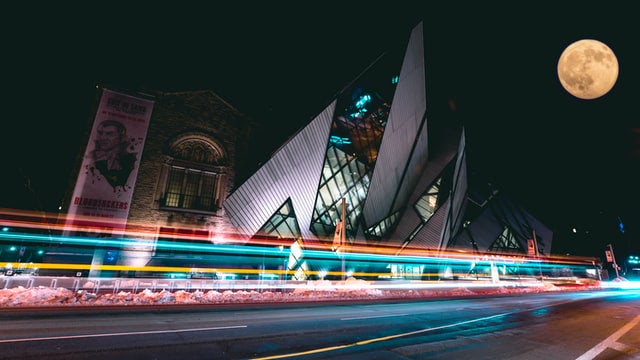 Moving from high-rise to low-rise, the Royal Ontario Museum demonstrates how a building can be an architectural work of art. The building is best described as an architectural sculpture featuring unexpected lines and fascinating details picked out in aluminium and glass. The overall shape is reminiscent of a natural crystalline structure that somehow "grew" into its current form. For those looking for right angles and boxy shapes, this may not be a favorite, but even its detractors are forced to recognize the creative design that went into creating this very unusual building.
The Aga Khan Museum
Housing a collection of Islamic art, the Aga Khan museum manages to epitomize the creativity of modern architecture while still harking back to Islamic roots. The exterior walls are of white granite, and although it is clearly a modern building, it would be easy to imagine it as a desert citadel complete with crenelated battlements. The design is particularly praised for its use of natural light, both in its interior, and in the play of light and shade on its striking facade.
Toronto City Hall
As a showcase for modern architecture, it should come as no surprise that the Toronto City Hall is an unexpectedly striking modern building. Two curved towers seem to embrace the domed structure that lies between them. Interestingly, this building, despite its cutting-edge appearance, was constructed during the 60s. At the time, it was highly controversial, but today, it is recognized as having been ahead of its time by several decades. The landscape architecture is as remarkable as the building itself, creating an imposing setting for the building itself.
Just a Taste With More to Marvel at
In this article, we took a sampling of some of Toronto's most impressive modern buildings. There are many more, and it might be argued that we should have featured other remarkable modern structures. Apart from modern marvels, Toronto also boasts a charming variety of historic buildings that illustrate the ways in which art and architecture have come together over the decades. From imposing public buildings, to modern condominiums and restored residences,  It's sufficient to conclude that Toronto's architecture has something for everyone, just as the city does. Worth a visit? Certainly. Great to live and do business in? Absolutely!